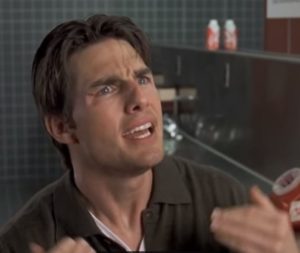 As it is often said, over a lifetime you end up spending more time with those you work with than your immediate family. Sigh. And just as those relationships with individuals you are related to via birth or marriage are not always a walk in the park, the most successful and satisfying unions get through difficult phases because they are built on trust, prioritize integrity and at the end of the day there is a general affinity for one another. Work relationships aren't much different, trust, honesty and a general likability are all important – check, check, check.
Sometimes, however, you need to dig deeper – particularly when that relationship is between a client and an agency. One of the first things that comes to mind when I think of the client-agency dynamic is a scene from the movie, Jerry Maguire and a related catchphrase and no, not "Show Me the Money!" (please). It's, Help Me…Help Me Help You! So, with Cameron Crowe as my muse along with some help from Tom Cruise and Cuba Gooding Jr. I offer up 3.5 ways a client can help their agency help them…
Share as Much Data, Metrics and Company Information as Possible
Everyone can appreciate the value of information in this atmosphere where data is king, and analysis is critical. Most clients do endeavor to provide the key facts and figures to make the necessary decisions related to their campaign. That said, I would also encourage clients to provide some of the information that is beyond the database. Anecdotal, qualitative and industry stats can really provide needed context for the current campaign and inspire new recommendations for the quarters to come.
Encourage and Facilitate Testing
As a media agency with decades of experience across multiple channels, we can certainly bring to the table a variety of scenarios to predict how your campaign will respond…but it will never be as accurate as a well-constructed media test. Testing can be considered a luxury because of the inherent uncertainty and the fear of wasted money. But when thinking long-term, in the end testing is a valuable tool that can set the foundation for a productive profitable roll-out. Testing also should remain part of the media strategy. New media opportunities worthy of testing are emerging at an accelerated rate due to the convergence of traditional and digital medias. Testing new platforms positions your company for future growth often at an efficient cost.
Establish Boundaries with Respect to Budgets and Timelines
"Setting boundaries" is a term frequently used when discussing the management of relationships because it's important to know where you stand. In this case I would like to encourage boundaries when it comes to the finite elements in a campaign – especially budgets and timelines. Budgets are admittedly hard to determine when it comes to media because there are so many different options to consider. For this reason, it's vital to provide a construct, even if it is a broad range of what is affordable now. Scale is always an option. Additionally, having a sense of timing is key. What is your company's business cycle? When would be the ideal time to launch a marketing initiative? What are your creative needs and how long will it take to craft a message that resonates with your customer? Answering these questions will significantly improve the development of a detailed and robust advertising strategy and plan. Without these guidelines, the resulting media plan can lack focus and end up generating more questions than answers.
       .5 Ask Questions and Push for Answers
I deemed this only a ".5" on this list because of course you know that asking questions is critical to a successful relationship, so why bring it up? Because many times there is not only a single answer in this complicated media space and when both the client and agency are collaborating and pushing to dig a little deeper – it's amazing how this push and pull can lead to innovative solutions to what was originally thought to be a common question…and that's when you feel good about your day as you head home.
At Modus Direct, we are lucky to enjoy some of the best client relationships in the industry.  Many of our clients have been with us for several years with a few closing-in on a decade and (by the way), that's when we opened our doors. This list was compiled by thinking back as to how our clients have helped us become a better agency – and they certainly have, and we are grateful. When you are in a great relationship – everyone wins.